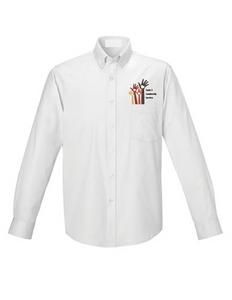 St. Cyril Jr. High Long Sleeve Button Down Shirt
Limited stock available - Please allow up to 2 weeks for delivery
Jr. High Long Sleeve Button Down Mass Youth Shirt
A wrinkle-free blend with a look that lets the world know that you are a force to be reckoned with and a sight to behold.
60% cotton/40% polyester
4.2 oz.
classic fit
button-down collar
left chest pocket
extended tail
available in youth, ladies, & men's sizes
Embroidered St. Cyril logo above pocket on front left chest
Samples available in school office
This shirt is required for Junior High students ONLY - All other students are NOT allowed to wear this shirt to school
Free delivery to St. Cyril School or delivery to your home for an additional shipping charge is available. Please choose your delivery preference upon checkout.